What Are The Best Binary Option Methods and Strategies?
Hey there traders. In this post I wish to share with you the best binary option strategies and methods for M1 and M5 that will certainly get you the results you seek in your binary trading journey. As you might be aware, I've been putting up a series of videos #in5tradesorless where I show in short, sped up video clips, examples of my live trades.
Since then, several Youtube channel and Facebook page subscribers have asked me what methods or strategies I use, or which binary strategies I would recommend for new traders to start off with.

In the section below is a recent example video from that series. You can either watch it now or later. Because in the later video toward the bottom of this post where I explain the various methods I use, I will be referring back to this video.
#In5TradesorLess Binary Options Methods and Strategies Live Trading Example Video
Try to spot how many methods were used here?
(Note: By broker's and regulation authority's requirement considering my level of influence in binary options in social media, all trades had to be taken at minimum size to encourage responsible trading and "not badly influence the trade size of newbie traders who might be watching")
I make it a point to show both the wins and losses, because there's a very important point that every binary trader should understand.
"Sometimes even when the right method is used, ultimately, it is the market that decides if we win or lose."
First Recognize The Market Price Pattern, Then Decide The Strategy
Have you ever been repeatedly surprised, or let down by the market when your favourite trading strategy failed again, and again? One commonly forgotten or ignored step is to first identify the market price pattern to review whether your favourite strategy works will on this pattern, or not.
Experienced traders who have been profitable continue to wonder why a certain method that once worked so well last month, last week, or even yesterday – can't get even a single win "today"! Ever had such an experience? The reason is that you most probably applied the wrong strategy to the market price pattern.
Any of this look familiar?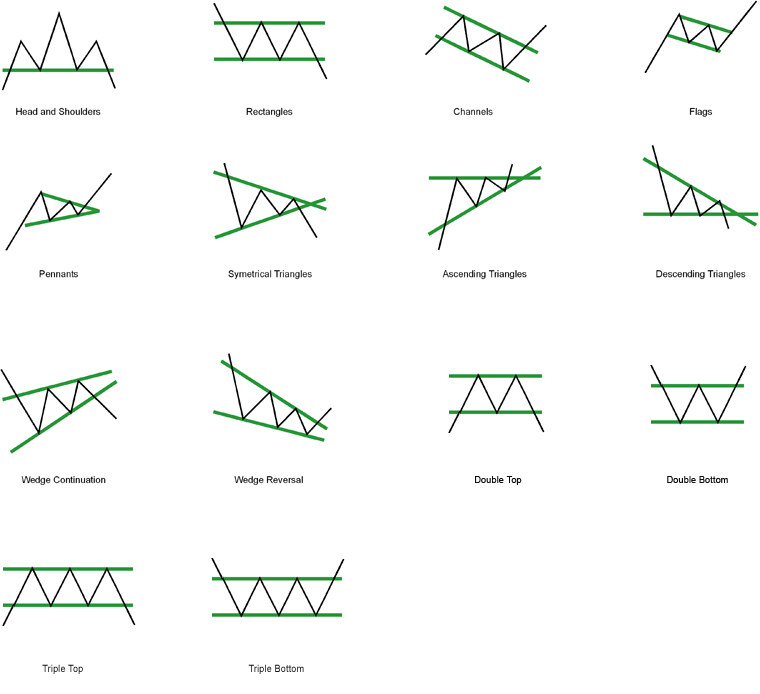 The good news is you don't have to remember them all. I will shortly share with you only 3 market price patterns that you need to know – on which the rest of this are all based upon.
Many of you binary traders out there love trading reversals right? So do I. Can you recall the last time where you noted the conditions were "perfect". Tall spiking candles stretching the upper band. A fibonacci 161.8 or 261.8 level even – so you placed your "Lower" a.k.a. Put trade, but instead of coming down it continued to rise. Frustration mounts as you then look to enter at the 261.8 level, or the 423.6 level… and while the market candles stop rising, they just got flat sideways. Some of you martingale right? There goes 15% of your account.
You may have heard of "trending market", "flat market", "ranging market", "breakout", "sideways market" – but can you tell them apart?
In fact, I don't blame you for wrongly recognising a market price pattern. It happens even among the best of us. The reason for this is the "auto-zoom" feature that many brokers use today magnify the price movements so that we can see it more clearly, but at the same time, it makes us wrongly assume that the market range is good while it may not be the case.
In the comprehensive video explanation below, I identified 3 Key Market Price Patterns that you must learn to spot, and then be familiar on how to trade it – so that you won't lose money to wrong binary trading method application EVER AGAIN.
30 Minute Video Lesson: Best Binary Option Methods and Strategies for 1M and 5M Trading
In reality, the concepts discussed in the video you're about to watch also universally applies across all other tradable chart timeframes. I suppose you can charge me guilty of the "clickbait" title, LOL!
Unfortunately, the new Youtube live doesn't allow me to switch between webcam and screen view, so I instead resorted to pencil and paper to illustrate these concepts. Actually, it might be even simpler for you to understand!
Enjoy the video, and if you have any questions or feedbacks, you can comment below or on the video's watch page!
Final Words: How To Apply These Binary Option Methods and Strategies?
I've been very generous in the information given to you in the video above! It covers most of the key concepts I use to trade Binary Options these days. Of course, I didn't go into the fine details of each, for instance, expiry time, supporting indicator and indicator levels, case studies of trade setups on chart, etc – because that would take a lot more time. If you're a seasoned or experienced trader, you should feel as though you already have powerful knowledge on hand to tackle and conquer the markets the next time you login to your broker platform. Some of you might even be raring to go!
However, if even after receiving all these step-by-step descriptions on how to trade each market price pattern in the video above, you're still feeling lost on how to go about it, then it would be better for you to enrol yourself in a training program to help you achieve your success in Binary Options Trading.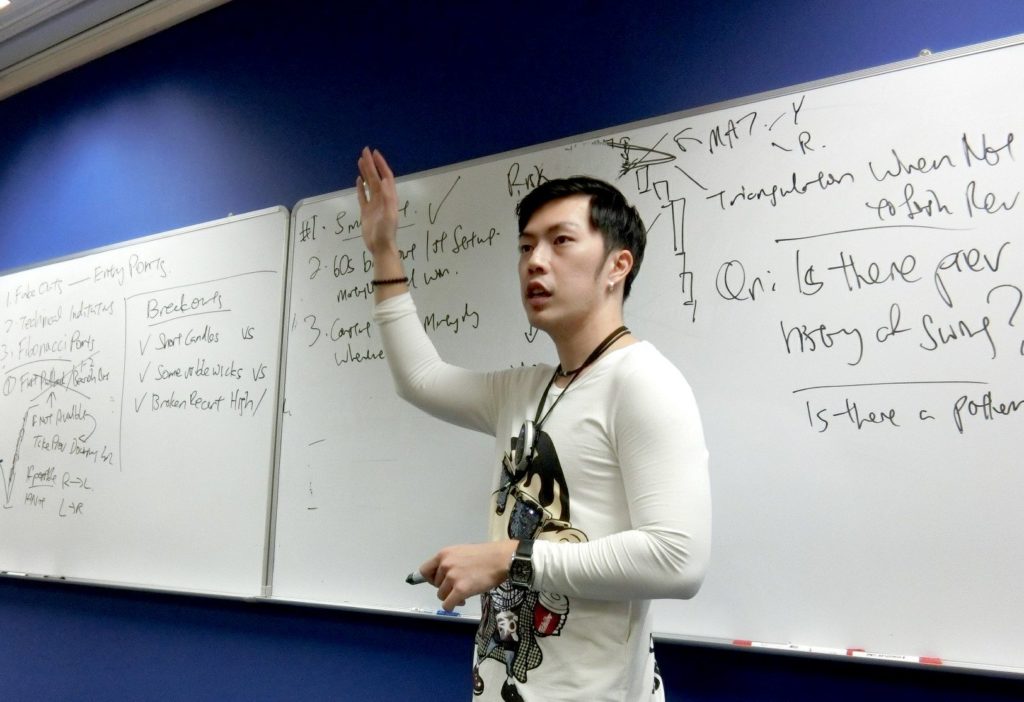 Your best bet would be to enrol in my Binary Lab Elite Program, where I personally conduct weekly webinars, and monitor and respond to messages in a VIP student's Telegram group. You will also receive access to sequenced lessons and webinar replays in a Private Student's Forum, and as an additional bonus, Daily Case Study Trade Setups with Screenshots via the Telegram group every London session (Mon-Fri).  Join the Binary Lab Elite Program Here.
How Will You Learn From Me on Online Webinar Lessons?
Here's a short video from my Youtube channel just for you to get a feel of my teaching style and way of explanation. Regardless of the program that you enrol for, this is basically my approach to it. See if you like this. Click to watch the short 7 Minute Video below! 
The Binary Lab Elite Program is certainly worth it, because it is the best hand-holding you can ever-have for binary trading, but it is not cheap. You may also want to send a message to my FB page admin, as I occasionally have broker-collaborative promotions where you can get in on a discounted rate. In case that might be out of budget, your other options would be my Binary Lab Basics program, or my Martingale Mastered. If you get in for Binary Lab Basics, you can also message my fb page admin for complimentary access to Martingale Mastered as well! 
Click Here to find out about the Binary Lab Basics Program
Click Here To Find out about the Martingale Mastered Program
It doesn't matter how you start, as long as you get started. My two Entry-Level programs above are FREE when you open and deposit in a supported broker account opened through Binary Lab, and you can certainly work your way up to being a full Binary Lab Elite member along the way! Simply chat with my FB page admin on existing student upgrading discounts and promotions!